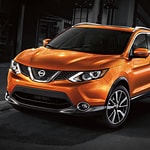 The Nissan Rogue Sport is the compact SUV that garnered a big fan base of the past few years. That's because the Rogue Sport is affordable, stylish and lots of fun just about anywhere. To make the Rogue Sport even better, this compact SUV can be modified with a number of accessories from Nissan. Here are some of the most popular accessories available.
The Rogue Sport can be lots of fun on tailgate parties and off-the-beaten path. However, these activities can get a little bumpy. That's why Nissan offers a chrome rear bumper protector. This accessory is designed to last for years and give your Rogue Sport a look that is both rugged and stylish.
For those who want to maintain the pristine condition of the vehicle's doors, Nissan offers clear door protectors. These excellent door protectors allow the door edges to be better protected while preserving the overall look of the vehicle.