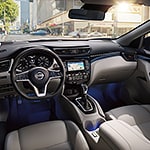 Nissan knows that your vehicle can be an extended expression of your personality. That is why they have added many great accessory features to the Nissan Rogue Sport allowing you to personalize your vehicle to be as unique as you. This vehicle offers plenty of options for you to make a statement with the additions available.
Having different wheel options available with the Nissan Rogue Sport gives you the opportunity to change the overall look of your vehicle. You can choose between the 17-inch gloss black aluminum wheels or choose the 19-inch aluminum-alloy wheels to match your personality.
You can keep that style going with other accents on the Nissan Rogue Sport as well. Nissan offers a gloss black or chrome rear finisher for an extra touch on the back liftgate and gloss black and chrome door side sill strips to keep your look consistent.